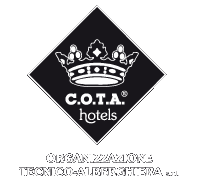 C.O.T.A. hotels has established its own ACADEMY of HIGH HOTEL PROFESSIONAL TRAINING.
C.O.T.A. hotels carries out Specialized Courses on Operational and Management Topics in the Macro Areas of:
– HOSPITALITY HOTEL MANAGEMENT
– ROOMS DIVISION MANAGEMENT
– FOOD & BEVERAGE MANAGEMENT
Courses are structured as follows:
– BASE COURSE
– 1st LEVEL COURSE
– 2nd LEVEL COURSE
– 3rd LEVEL COURSE
The Program will be made available upon request, after actual expression of interest.
Courses will be held upon reaching a minimum of 5 Participants, up to a maximum of 10 Participants per Course. The modalities of participation will be announced from time to time.
C.O.T.A. hotels moreover carries out Professional Training for Personnel and Management directly at Hotel and Catering Facilities, after Auditing (Evaluation Process) and Designs Professional Training Courses designed ad hoc, in order to prevent and eliminate all Criticalities related to Organization and Operational Management in:
– BEHAVIOR, WELCOME AND HOSPITALITY MANAGEMENT
– HOUSEKEEPING MANAGEMENT
– FOOD & BEVERAGE MANAGEMENT
– HYGIENE AND H.A.C.C.P.
– HUMAN RESOURCE MANAGEMENT
C.O.T.A.hotels issues the Candidate with a Certificate of Course Participation attesting to the Apprenticeship of Knowledge and Skills acquired through the Training.
The Courses are conducted by Teacher Managers, Professionals, active in the Hospitality Sector, C.M.C. Certified Management Consultants – I.C.M.C.I. – International Council of Management Consulting Institutes of Zurich, Operating in Compliance with the Law on Professions No. 4, dated January 14, 2013.
C.O.T.A. hotels, at the end of the Training Courses, has the Participants evaluate the satisfaction of its Trainers and through External Specialized Company has them evaluate the Satisfaction and Quality of the Professional Hotel Training provided.
C.O.T.A.hotels, six months after the Hotel Training, appoints External Specialized Company, to consult with the Client Hotel Companies, to evaluate the Company Benefits obtained through the Professional Hotel Training carried out.
C.O.T.A.hotels has been accredited as a Training Facility by the National Joint Interprofessional Fund for Continuing Education "FORMAZIENDA" at prot. no. 283U of 04/03/2013 to carry out Financed Training to Hotel and/or Catering Companies.
C.O.T.A.hotels, six months after the Training Courses of Hotel, instructs external Company specializing in consult of the Companies Hotel Patrons, to evaluate the benefits obtained through the Training Courses of Hotel performed.
Teachings carried out both at Institutions: FORMAPER – C.C.I.A.A. MILANO, and at Hotel Structures.

Do you want more info Contact us